Love Button Biography:
Love Button formed in Oklahoma City in May of 1992. The three-piece featuring Dan Warren, Evan Henley and Adrian Fallwell, played a "Violent Femmes style" folk-punk, punctuated by Dan Warren's clever lyrics. In the beginning, the band often performed on the streets of Deep Ellum in Dallas, Bricktown in OKC and Campus Corner in Norman, OK. The bass and vocals were ran through a small amplifier, powered by a car battery.
For the next 6 years, the band's style developed and changed, incorporating guitar effects and a variety of musical genres. They grew a loyal following in the clubs of Norman and OKC, and performed in Austin, Dallas, Santa Fe, and other regional cities. In '93, they released a self-titled EP on self-produced cassettes known as The White Album. In '94, they released a full-length album, Stigmatogobius, on manufactured cassette, and in '95 released the 99-track CD, 17 Cleverly Disguised Songs About Smack.
The trio became a quartet with the addition of guitarist Thomas Anderson in 1997, sparking yet another shift in sound. At this point, the band often featured guest musicians, and even a horn section for some shows.
Love Button broke up in 1998, but reassembled in 2002 following a reunion show. Throughout the 00's, Dan moved to Florida and California gaining a PhD in Population Biology, and Thomas moved to Georgia to get his Masters in Music, but the band still managed to play several shows, including several performances at the annual Norman Music Festival.
In 2013, Love Button finally released its 15-year-overdue album, Eat More Fruit. Dan now lives in Australia and has several solo albums. He had international press coverage with his Son of Strelka, Son of God audio project, and is well-respected within his field of science. Thomas lives in North Dakota, teaching guitar and playing in a variety of bands and other musical projects. Adrian and Evan have continued playing in various Oklahoma bands, and have collaborated together several times, including the bands The Shit (w/Thomas), The Fuckin' A's, and the "old-time live radio" acting group, Night Light Readers Theatre.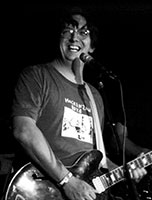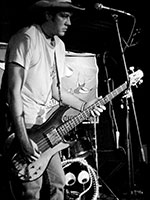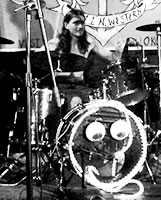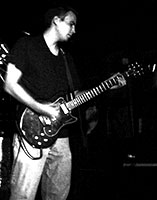 Dan Warren Guitar, Vocals, Keyboards
--click on thumbnails below for images of newspaper articles featuring Love Button--
Copyright © 1992-2016 Love Button - All Rights Reserved